SuranceBay offers subscribers of our service, the ability to set-up "Affiliate-Agency Access". This forum covers the following topics:
WHAT IS AN AFFILIATE AGENCY?
An Affiliate Agency (previously called a Sub-Agency) is simply a Producer or Agency within your downline that has their own downline of agents, and they would like to manage their own producers as an Affiliate-account. This feature allows the Affiliate Agencies to:
Login to SureLC.com as either an Affiliate Worker or Affiliation Processor
View & Manage their Producer profiles (assigned to their designated affiliation only)
Hand-hold their Producers during the registration process
Send out a Request/Review when an agent is ready to get contracted with a carrier
Review & process contract requests (Affiliate Processor ONLY)
An Affiliate agency is essentially piggy-backing on your SureLC account, but with limited access to SureLC functions.
Your agency can set up as many Affiliate Agencies as needed if you elect to add this feature to your SureLC account. This is done by adding new admins and setting them up as either an affiliate worker or affiliate processor (on the Admins page).
CUSTOM FEATURES
There are many custom features that can be used with the Affiliate Agency feature. Click on any of the following topics to learn more about adding this feature to a particular Affiliate Agency:
LIMITATIONS
Affiliate Agency workers only have access to their downline producers. An Affiliation must be setup and will be used to designate the group of Producers the Affiliate Agency should have access to.
Please Note: Affiliate Agency workers are limited to one affiliation only. They cannot be assigned to multiple affiliations.
The parent account owner receives all email notifications related to new registrations and requested contracts.
After a producer reviews and signs a carrier contract, an email confirmation is sent to your agency contact email, not the affiliate agency's email address.
If using a custom link for the affiliation for new producer registrations, an affiliate agency worker or processor email can be cc'd or bcc'd on new producer registrations. This can be setup under Affiliations -> Settings -> Custom Link.
Who Processes Carrier Contract Requests?
Part of the submission process is to setup hierarchy & compensation levels as well as the selection of the forms. Typically only your Agency Administrators have the ability to do this.
Affiliate Agency workers can submit producer appointment REQUEST/REVIEWS but are not able to actually process the paperwork UNLESS you have designated the affiliate agency worker as an Affiliate Processor. Affiliate Agency admins designated as an Affiliate Processor can process contracting requests for the producers within their assigned affiliation.
NOTE: Since Affiliate Processors have access to process contracts, this also means they have access to hierarchy & compensation schedule settings within the contract review.
Submitting State License Renewals:
Affiliate Agency workers are NOT able to become a SUBMITTER for license renewals without being designated as an Affiliate Processor.
At this time Affiliate Agency workers & processors do not have access to any Web Reports.
HOW MUCH DOES IT COST?
There is a $49.00 monthly fee per affiate agency (this charge applies to each affiliation that has at least one Affiliate agency worker assigned to it).
SuranceBay will not charge the Affiliate Agency directly. All charges are billed to the Primary agency account.
You can have as as many affiliate agency workers or processors as you would like per affiliate agency. This does not affect the monthly per affiliate agency fee.
HOW TO GET STARTED
1) Setup the Affiliation
Login to SureLC.com.
From the navigation menu, select Affiliations.
Select the +ADD AFFILIATION button on the top right.
Entered the name for the Affiliate Agency group.
Select the APPLY button to create the affililiation.

Please Note: You can choose to customize the information shown on the login & registration screen for the affiliate agency if using a custom link. The information entered as business name, contact name, phone # (for the affiliate agenc), and email will be show to the affiliate producers on the login and registration screens (as long as "Use Affiliation Info" is enabled on the top of the affiliations page.
2) Add the Affiliate Agency Admins
Select Admins in the navigation menu.
Select ADD NEW ADMIN on the top right.
Enter the required information for the new admin who will be managing the affiliation.
Use Admin Setup wizard to determine the appropriate assigned user role.
For question 1 "Which producers should this admin account be able to work with?" you

MUST

answer "Only producers in this affilation" and then select the affilation name from the list.
For question 2 "Is the admin authorized to submit contracting requests to carriers?"
Answering Yes will allow the admin to review and process contracts. This will setup the admin as an Affiliate Processor.
Answering No will setup the admin as an Affiliate Worker.

Please note: You can refer to the Permissions table on to the right to learn more about the differences between the affiliate workers and affiliate processors.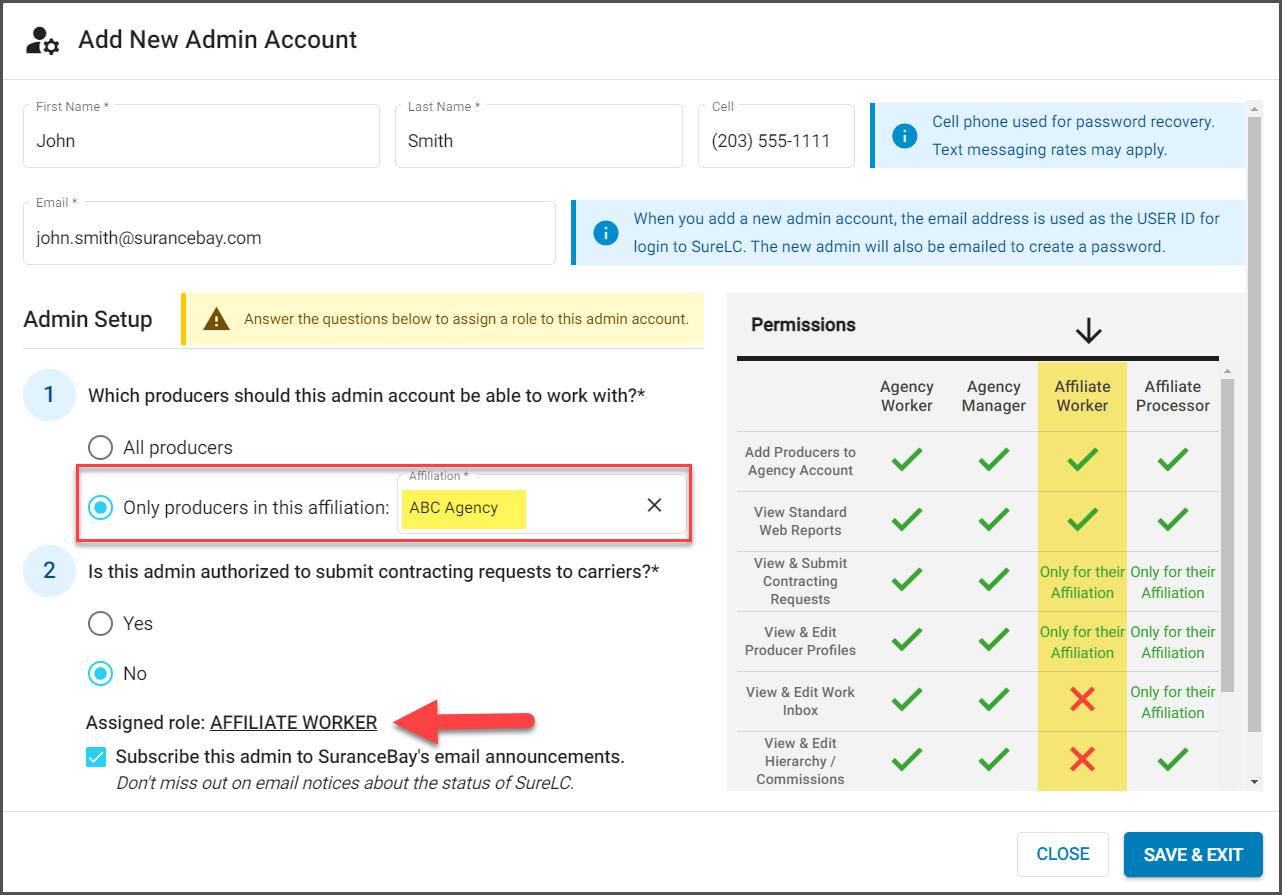 Select SAVE & EXIT to create the new admin account. You'll be asked to confirm the creation of the affiliate agency (as shown below). Selecting Confirm will enable this feature for your agency. Please be aware that there is a $49.00 monthly charge per affiliate agency.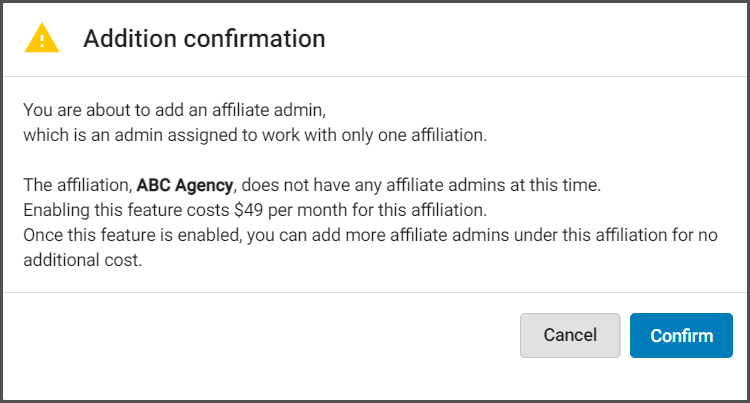 3) Next Steps for Affiliate Workers & Processors
After being added as an affiliate worker or processor, the new admin will receive an activation email from setup@surancebay.com. Affiliate admins will use the the link in the email to validate their email address and create their account password. After successfully creating an account password they will go to SureLC.com to login to their account.
AFFILATE WORKER VIEW
Admins designated as an affilate worker will have access to the Producers page, Firms page, and Fastlane. They will use the navigation menu shown to the left to go from one page to the other.

PRODUCERS

Using the producer page affiliate workers can review and update producer profiles, register new producers, and create new carrier contract requests for the producers assigned to their affiliation and these contract requests as request review emails to their producer. For more informatin about how to use the Producers screen click here.

FIRMS
Using the firms screen affiliate workers can add firms and review and update firm profiles.

For more information about how to use the firms page click here.

FASTLANE
Use the Fastlane to create multiple new carrier contract requests for one or multiple producers in a batch at the same time. Select "One Carrier to Multiple Producers" to send a specific carrier contract to multiple producers. Or, select "One Producer to Many Carriers" to send multiple different carrier contracts to one producer. Once submitted, the selected producer(s) will receive a request review email for each new carrier contract request. Producers can start and complete their contract review from the email.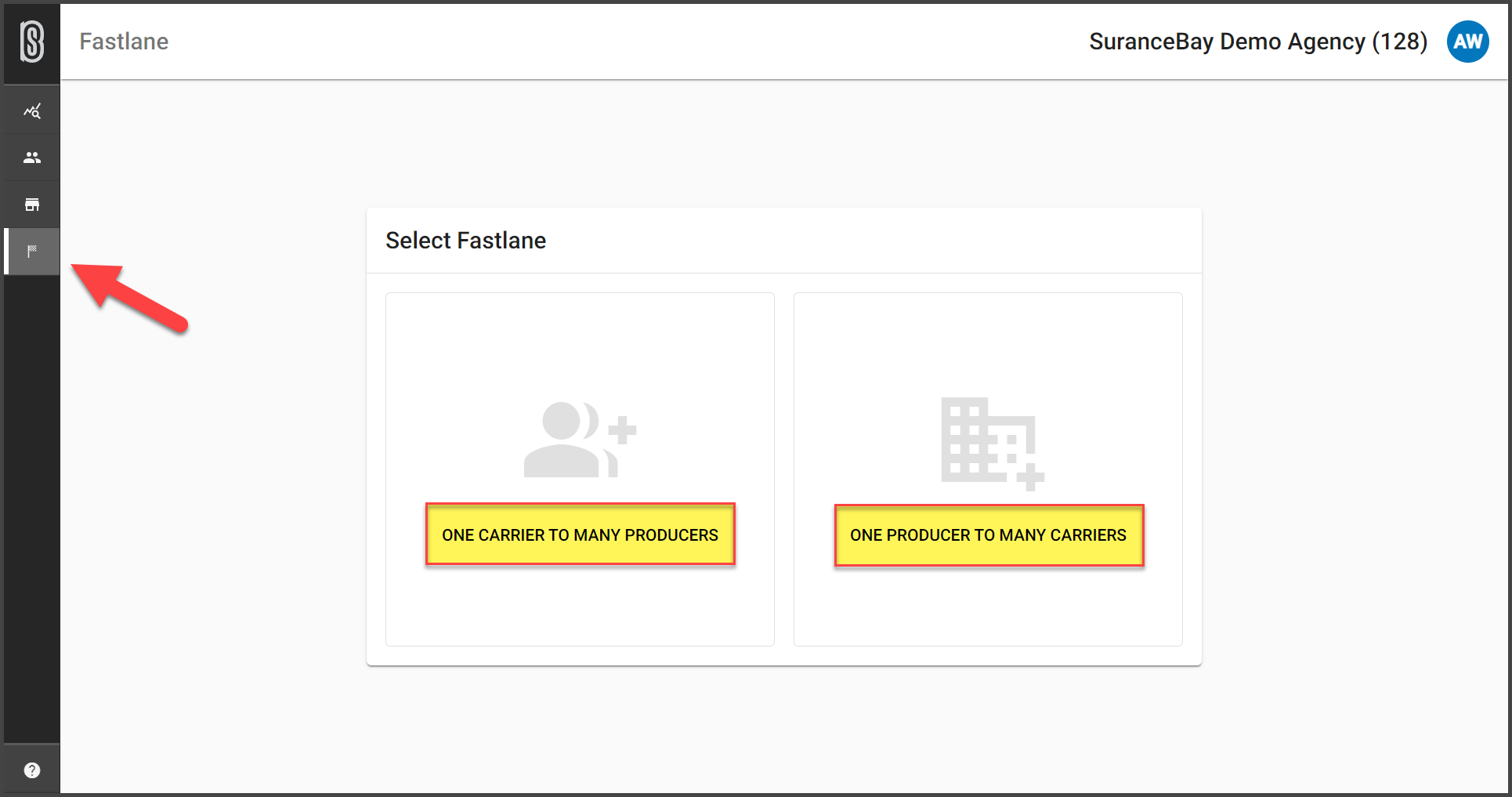 For more information about how to use Fastlane Click Here. .
AFFILATE PROCESSOR VIEW
Affiliate processors have access to the Producers page, Firms page, and Fastlane but also have to the Work Inbox where they can review and process pending contract requests for the producers assigned to their designated affiliation. To open any pending contract request, click on the producer name or use the actions menu at the end of the row for more options.

Work Inbox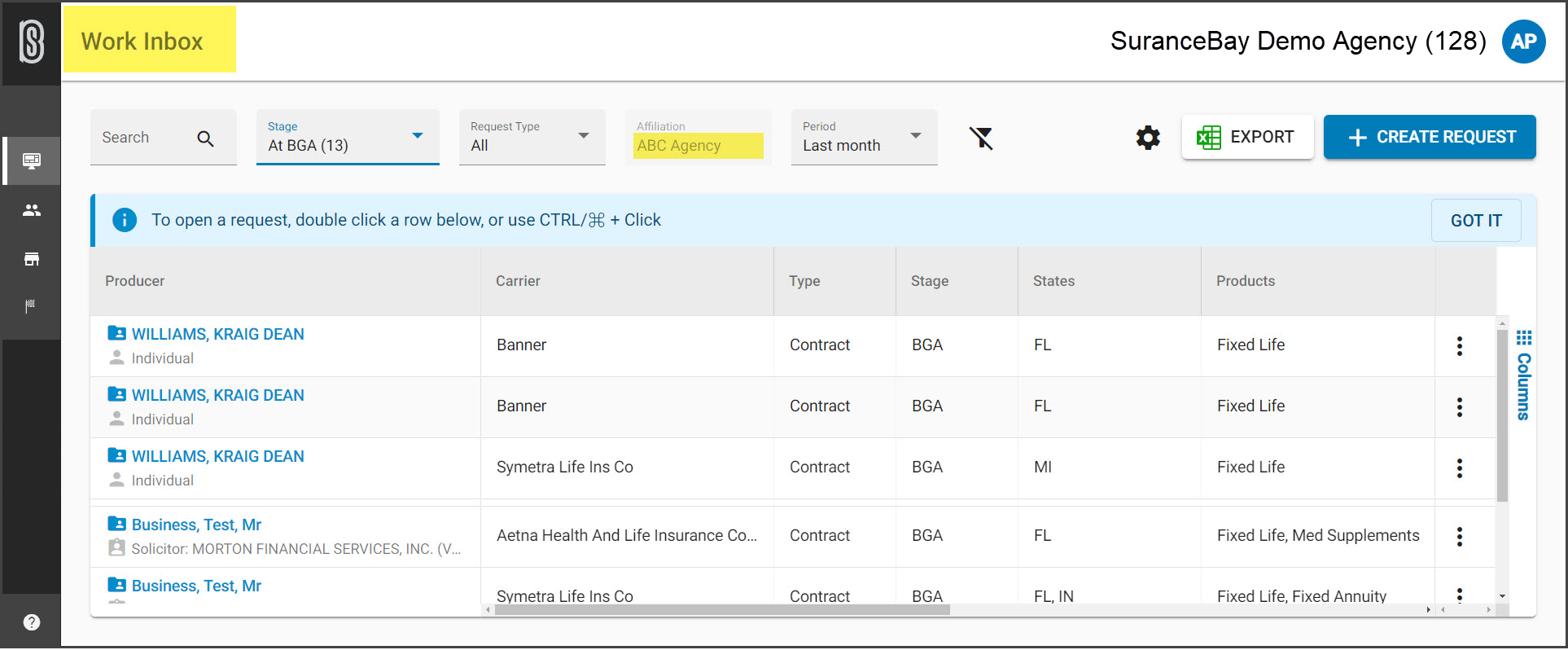 For more information about how to use the Work Inbox click here.
FREQUENTLY ASKED QUESTIONS:
Q1. LOGGING IN: Where do affiliate workers and processors go to access their SureLC accounts?
A1. Using virtually any web browser they must go to SureLC.com and they will login from their using their assigned admin user id and password.
Q2. MULTIPLE AFFILIATIONS: Is it possible to have a Affiliate Agency Worker who can work with more than one Affiliation?
A2. Affiliate Agency Worker can only work with one Affiliation.
Q3. SURANCEBAY EMAIL DISTRIBUTION: Are my Affiliate Agency Workers signed up to receive email notices from SuranceBay?
A3. This is optional. By default, Affiliate Agency Workers receive a welcome email informing them that you have added them as a Affiliate Agency Worker. This email has is used to confirm their email address and proivdes a link for them to create their account password. We maintain a separate email distribution list for Affiliate Agencies so they will only receive emails that are pertinent to them. They are not on the normal email distribution list as our Agency Users. See Affiliate Agency Email Signup for more details.
Q4. MULTIPLE AFFILIATE AGENCY LEVELS: I have a Affiliate Agency who also has a Affiliate Agency underneath them. Does this functionality support multiple Affiliate Agency levels? (BGA --> Affiliate Agency --> Affiliate Agency --> Producer)
A4. Not at this time. Currently, SureLC supports one Affiliate Agency level under the Primary account.
Q5. REPORTS: Can I run a report of how many appointment requests we processed for our Affiliate Agency?
A5. Yes. From your SureLC navigation menu , click on Web Reports, then Appointments By Producer. Choose a time frame from those available and once the report loads, click on the column labeled Affiliation to sort the report. You can then click Export in the upper right hand corner of the screen and open the report in Excel for further sorting and/or saving and/or printing. Please note that affiliate workers and affiliate processors don't have access to reports at this time. However, they can apply filters to the Producers screen, Firms Screen, or Work Inbox an then export the information shown in the view to Excel.
Q6. ADDITIONAL QUESTIONS: Who should I contact with any additional Questions?
A6. Contact SuranceBay at 877-264-6888, or email us at support@surancebay.com.