⚠️ NOTE: This integration requires approval from the carrier to be enabled for each agency. If you would like to enable this integration please send an email to support@surancebay.com.
INTEGRATION INFORMATION
UnitedHealthcare Ins Co-Medicare Solutions, and SuranceBay, worked together to make submitting contracting paperwork even easier. Now, when you process either Contracts or Transfer requests through SureLC, you'll receive the merged.pdf form in your inbox, but the forms will have a watermark on them indicating they've been electronically submitted to the carrier.
Within SureLC, you'll see that there are TWO separate UHC carriers. One is 'UHC-Health', while the other is 'UHC - Medicare Solutions'. Currently - SureLC has direct integration for UHC-Medicare Solutions only. For UHC-Health, you'll process contracts normally. Each UHC carrier has specific products lines to choose. You will need to add BOTH carriers to your carriers list in SureLC if you intend to do business with both of these UHC division.
Contracting paperwork is submitted electronically every business hour directly to UnitedHealthcare Ins Co-Medicare Solutions. So, upon follow-up with the carrier, they should have everything needed to start to process the request within the hour that you've submitted it.
This means that you should NOT forward the paperwork (email, fax, snail mail, etc.) to the carrier - they'll receive it directly from SureLC and they will process the request accordingly. This is designed to streamline the process for both your agency, your producers, and UnitedHealthcare Ins Co-Medicare Solutions to provide a quicker turn-around and more secure process for everyone involved.
⚠️ ALERT: ALL appointment requests (Contracts & Transfers) submitted for a producer will be sent electronically for this carrier. This includes the first request along with ALL subsequent appointment requests.
Request Types NOT Uploaded Electronically
Please note that the following request types are NOT electronically submitted to the carrier:
Hierarchy (commission level) changes
EFT Payment account changes
Additional State Appointment requests
For these 3 request types processed through SureLC, you'll still receive an email and you should submit them to UnitedHealthcare Ins Co-Medicare Solutions as you normally would (email, fax, snail mail, etc.). When you process these request types, the forms will NOT have a watermark applied to the forms.
Please Note - While agency workers receive the contracting paperwork for United Healthcare Ins Co-Medicare Solutions with a watermark, the carrier actually receives through this direct integration the paperwork WITHOUT a watermark.
Status Updates!
SuranceBay is very pleased to have worked with UnitedHealthcare to make status updates available directly within SureLC for your review. You will not have to call or email the carrier to find the status, the details are available directly within SureLC!
The possible status updates are:
Request Received - indicates that UHC has received the request
Producer Due Diligence Started
Producer Due Diligence Completed
Request Approved
Request Rejected (and a reason description if applicable)
NOTE - any notes/comments that you add within SureLC are NOT corresponded back to the carrier!
To view the status updates, single-click on the carrier name within the producer's appointments list, as shown below.
Once the carrier approves the request, the request is moved to the producers Completed file. To get there, open the producers Appointments screen and in the Filter by: options select Completed instead of All Open.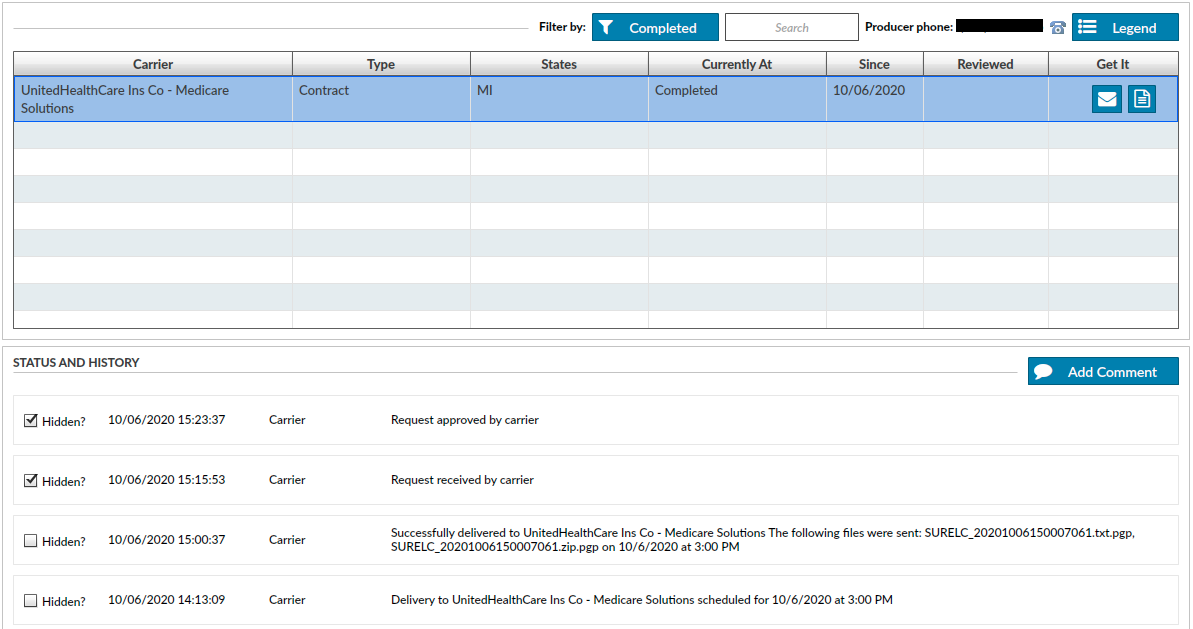 Should you have any questions, please email us at support@surancebay.com .