Prudential worked with SuranceBay to enable bi-directional integration between SureLC and their home office system(s). As of May 4th, 2020, submitting requests is easier, and the turnaround time is drastically reduced for you and your producers through this automated workflow. You'll see approved/declined responses and more right in SureLC!
Supported Request Types for Direct Integration
For Hierarchy, Additional States, or Payment (EFT account change request) - you should continue submitting these request types as you normally would.
How It Works
On the last step within SureLC, you will see an indication that reads: "Will Be Submitted Electronically", as shown below (Contracts and Transfers only).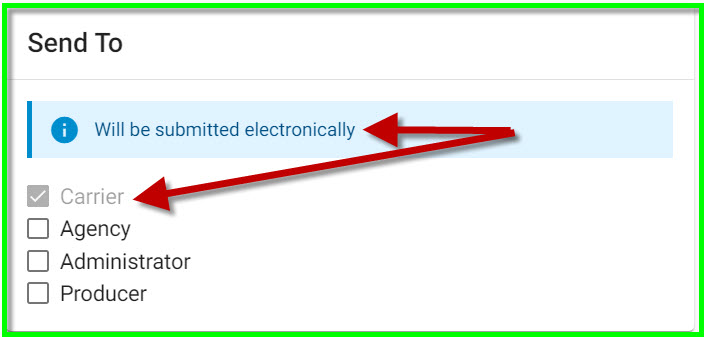 After you "Process" the request, you will receive an email with a PDF copy of the paperwork for your records. Please note, the PDF file that you receive will be watermarked with "Electronically sent to carrier, do not submit."
Prudential will receive the data and contract directly for automated processing on their end, there is nothing further you need to do.
Contracting paperwork is sent to Prudential electronically at ten minutes past every hour from 7:10 am to 8:10 pm ET, Monday through Friday.
Status Updates!
SuranceBay is very pleased to have worked with Prudential to make status updates available directly within SureLC for your review. You will not have to call Prudential to get the status - the details are available directly within SureLC for your review!
The possible status updates, along with timestamps, are:
Received - indicates that Prudential has received the request
In Progress - Prudential is reviewing the contract application
Additional Information Required - Prudential will communicate additional details via email regarding what information is still required
Closed - contract has been declined
Completed - contract has been approved
NOTE - any notes/comments that you add within SureLC are NOT sent to Prudential!
To view the status updates, single-click on the carrier name within the appointments section, as shown below: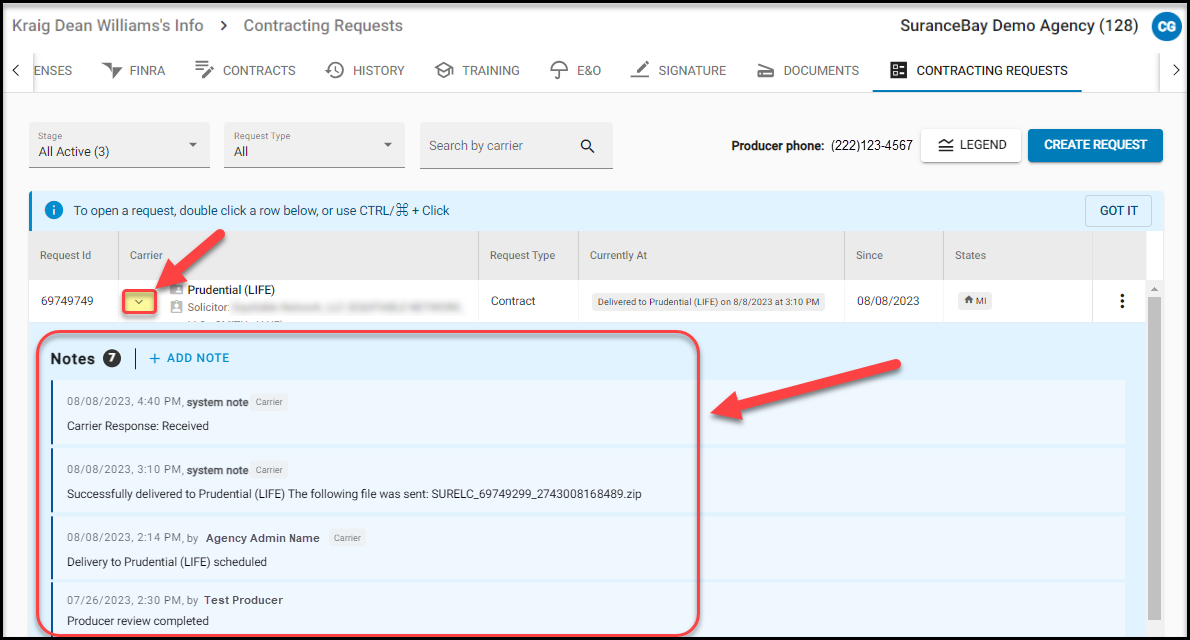 Once the carrier approves the request, the request is moved to the Completed Stage. To get there, open the Producers Contracting Requests tab, and select the 'All' or 'Completed' Stage. Then click the > button to expand the request and view the Notes.
Status Update Report
Now you can review ALL status updates for Prudential in a single report! Run the 'Agency DataLink Statuses - Prudential' Web Report in SureLC to view Prudential's contract status.
This report includes just about everything you need to know about your submitted Prudential requests, including:
Product Lines Requested
States Requested
Stage
Assigned Writing Numbers
How to Run the Report:
Open Web Reports in SureLC
Select the report 'Agency DataLink Statuses - Prudential'
Enter start/end dates and select 'Download CSV' - (this is the best option for custom sorting)

Example of the report: