OVERVIEW
1000+ BGA's and 500,000+ insurance producers have benefitted from using our multi-carrier contracting automation system, SureLC. As the premier software solution provider to independent insurance distribution partners (including carriers, BGA's, and producers), SuranceBay is asked how SureLC handles and supports producers working with multiple BGA clients. The posting provides information and answers frequently asked questions (FAQs).
OBJECTIVE
SuranceBay's mission is to streamline and automate the different processes involved with buying and selling insurance. As it relates to SureLC producer profiles, they only need to be completed once. Whether a producer works with one SuranceBay BGA client or multiple SuranceBay BGA clients producers only need to complete and maintain their profile once. This eliminates most redundant data entry.
DETAILS
Let's look at the "Tabs" within the producer profile. Notice that the information requested is unique and specific to the producer. Any anomalies are covered later in this post.
For example, answers to the producer's background questions are independent of their relationship with any BGA client. Likewise, the producer's state licenses are between the producer and the corresponding state DOI and are not related to their relationship with any BGA subscriber of SureLC. Most of the producer's information found within their SureLC Producer Profile is shared across multiple BGA's which the producer has authorized to access their profile, typically including EFT information, address and employment history, E&O policy details, FINRA registration, and AML training details.
EXCEPTIONS
The primary exception to sharing the producer's profile information across multiple BGA clients of SuranceBay is the information found within their DBA Tab. ALL information within the producer's DBA Tab is specific and unique to the producer's relationship with each BGA client.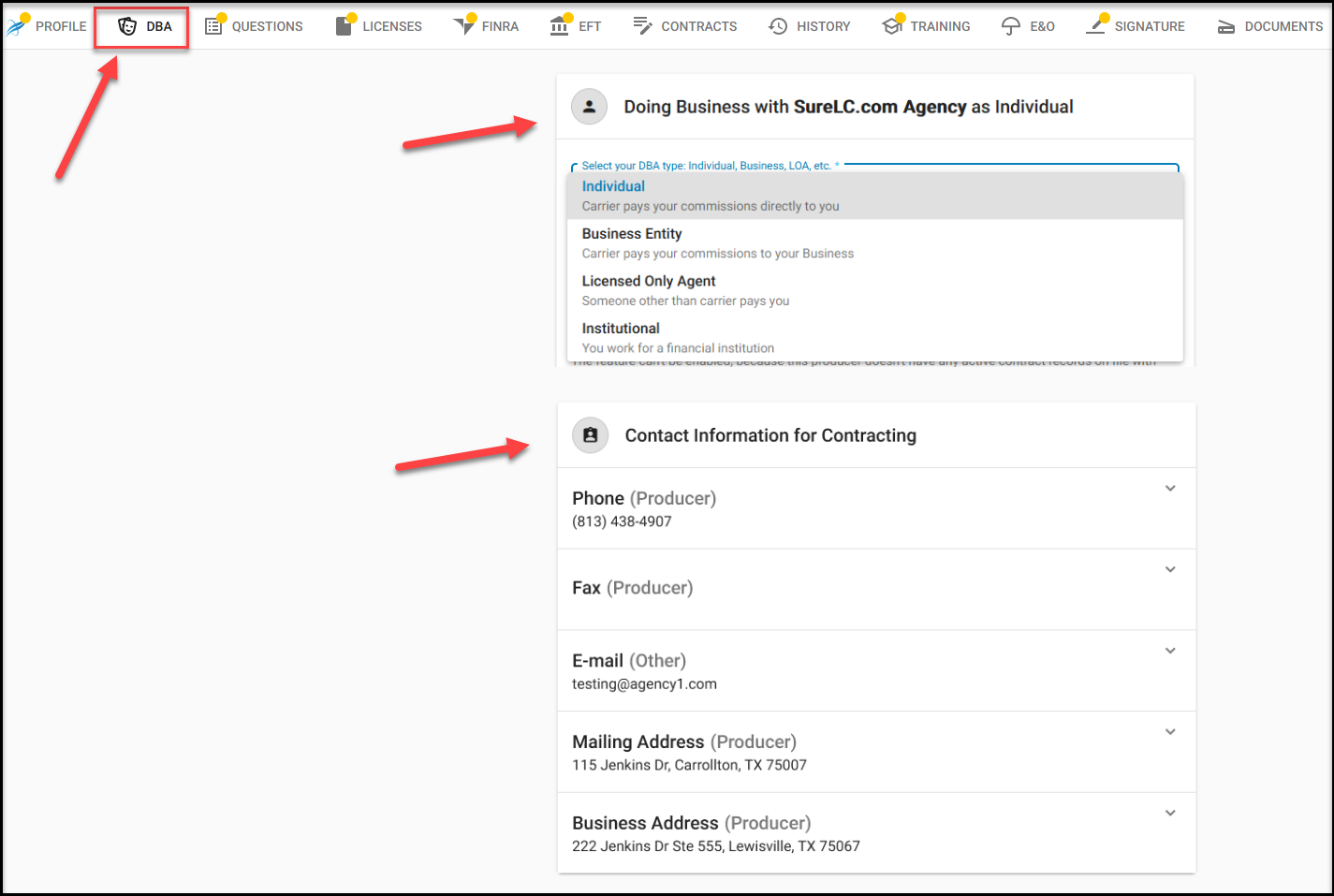 Note that any details listed in the DBA Tab for the producer are transferred to carrier contracting PDF forms.
In addition to DBA Tab, there are agency or DBA type specific elements in E&O, EFT, and DOCUMENTS tabs.
Within the E&O Tab, the system shows personal E&O coverage purchased by the producer as well as group coverage offered by the specific BGA, if applicable. Personal E&O info is shared across all BGAs. The group E&O info is not shared and is available only for contracts/relationships of that agency.
EFT Tab information depends on the "Doing Business As" designation: it is omitted for license-only agents, it is personal account info for Individual agents and it contains the firm's account for Business Entity dba type.
Documents Tab allows to designate - for every uploaded document - if it is agency specific or not.
PRODUCER LOGINS
At this time, producers must use your agency's dedicated SureLC URL. Additionally, the username/password combination must be unique for each BGA relationship. CLICK HERE for more details.
INFORMATION NOT SHARED
Aside from DBA Tab details within the producer's profile, Contracting Requests submitted to or processed by one BGA are NOT visible to other BGAs or Carriers. Contracting requests are specific to the producer/BGA relationship and are not shared across BGA subscribers to SureLC.
FREQUENTLY ASKED QUESTIONS
Q1. Does my agency have to pay the NIPR fee if the producer is already associated with another BGA, but gets added to my agency's SureLC account?
A1. Yes - SureLC still has to pull a separate PDB® Report from NIPR® which SuranceBay gets charged for so the fee still applies.
Q2. Does the producer need to create a new account by clicking on the "New User" button on my agency's dedicated SureLC URL if they've already created a profile with another BGA client?
A2. Yes
Q3. Can the producer use the same email address & password that they previously used when setting up their account with another BGA client of SuranceBay's?
A3. At this time the combination of username (email) & password must be unique. The producer can use the same email address (userId) but different passwords. Otherwise, the producer can use the same password, but different email addresses.
Q4. My producer is trying to enter their login credentials, but they are getting a message indicating that their credentials don't match. Can you help?
A4. This message occurs when the producer already has login credentials to SureLC through a different BGA relationship but the producer is attempting to use your agency's dedicated SureLC URL. This message indicates that the producer is attempting to access their record associated with your Agency's dedicated SureLC account but either has not yet registered themselves or is entering the wrong login credentials. Our recommendation is to Verify that the producer is active within your SureLC account. If you can't see the producer within your SureLC account tell the producer to click on the "New User" button and follow the registration steps because the producer technically is a "New User" as far as your SureLC account is concerned. If you can see the producer within your SureLC account, this means that the producer is entering login credentials associated with another agency. Remember, producer login credentials are unique for the producer's relationship with each agency. Otherwise, ask the producer to click on the "Forgot UserId/Password" button.
Q5. Where can I get more information to share with our producers about registering and logging in?
A5. We have multiple postings/tutorials on this:
Please contact support@surancebay.com for additional support, or call us at 877-264-6888 and someone from our team will be happy to assist you.