Click Here to see which carriers have officially approved this course.


How to access SuranceBay's AML course
To help you maintain your requirements to contract with carriers, SuranceBay offers a free anti-money laundering (AML) course to all producers with a SureLC profile. It's easy to do by following the steps below! You can access the course directly or right from your SureLC profile. Use one of the following methods to access and take the course:
How to access the Course Directly from your Web Browser
How to access the Course from your SureLC Profile
________________________________________________________________________________________________________________
How to Take this Course Directly from your Web Browser:
Open your browser and enter aml.surancebay.com
This will take you to the course landing page. Select the TAKE THE COURSE button to continue.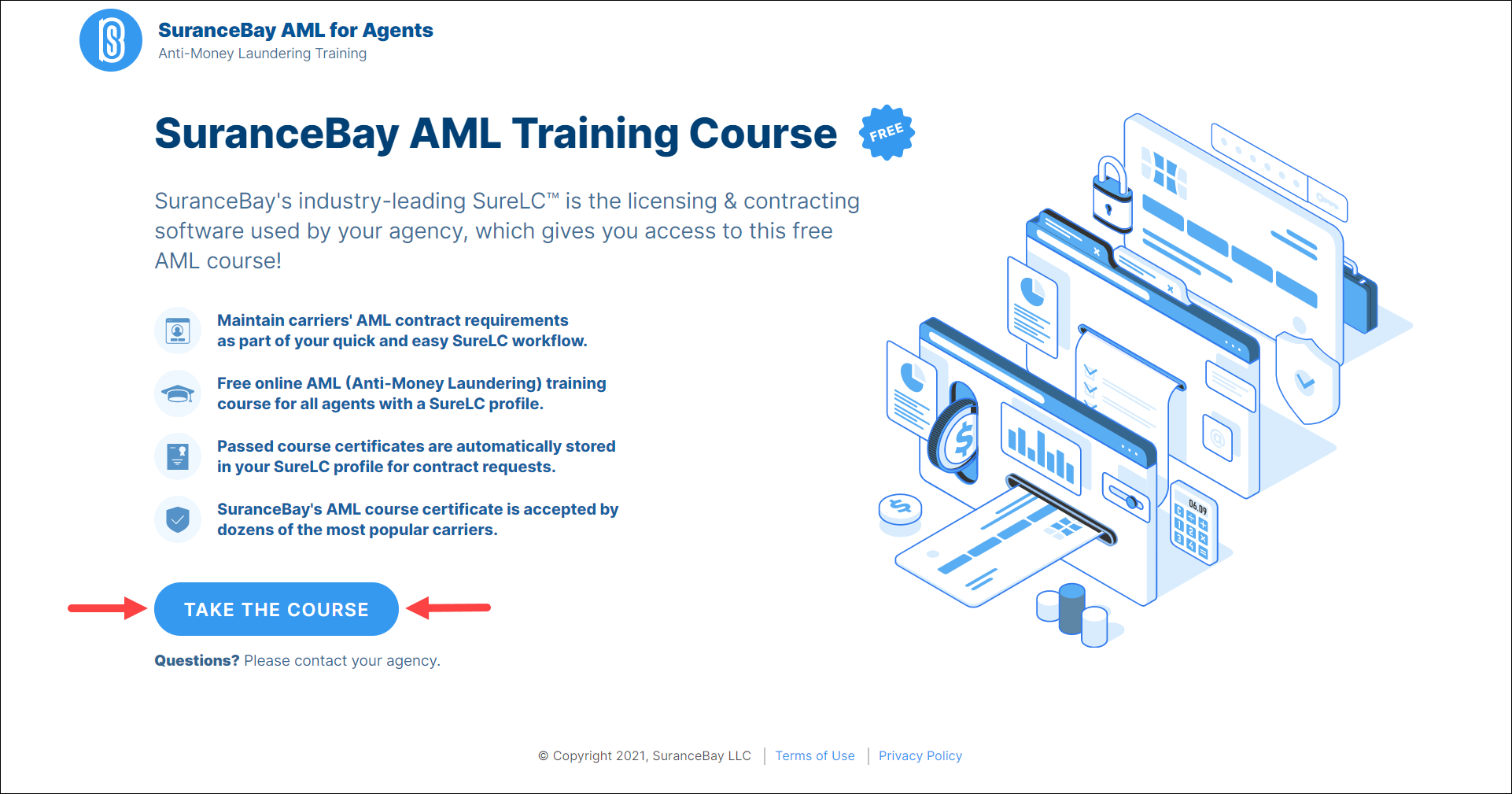 Next, enter the last 6 digits of your SSN and your Date of birth to sign in.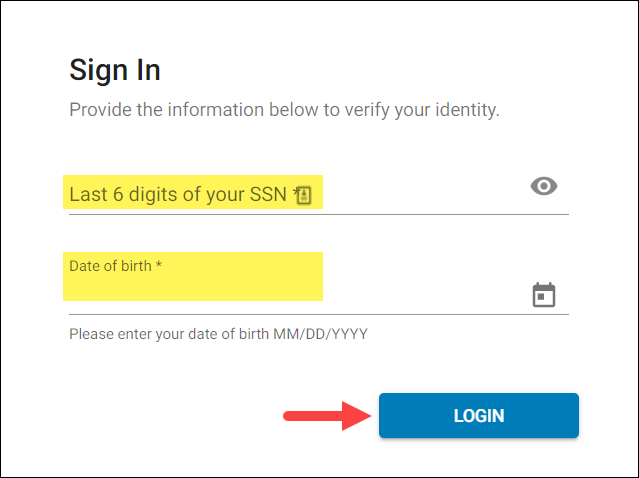 Once signed in you can choose to read the course information online, or download a pdf file with the course information for offline viewing. After reviewing the course information select the START TEST button to take the test.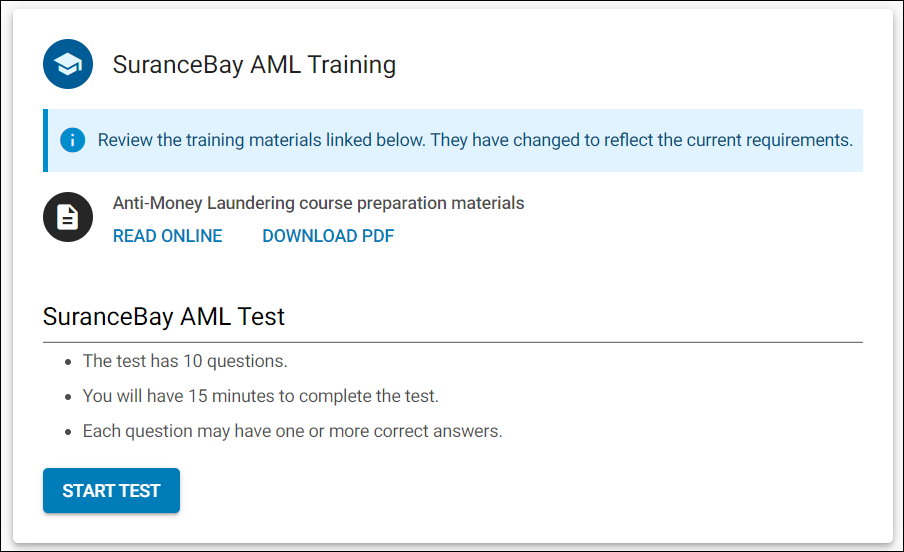 Getting a score of 80% or better will pass the test. Passing the test will automatically generate your SuranceBay AML certificate and add it to your SureLC profile.
How To Take This Course from your SureLC Profile:
Go to your agency's SureLC login page and enter your credentials to access your profile.
Using the navigation menu select CE & Training.
In the Anti-Money Laundering section select the Start Training button.

4. Select the SuranceBay, LLC option.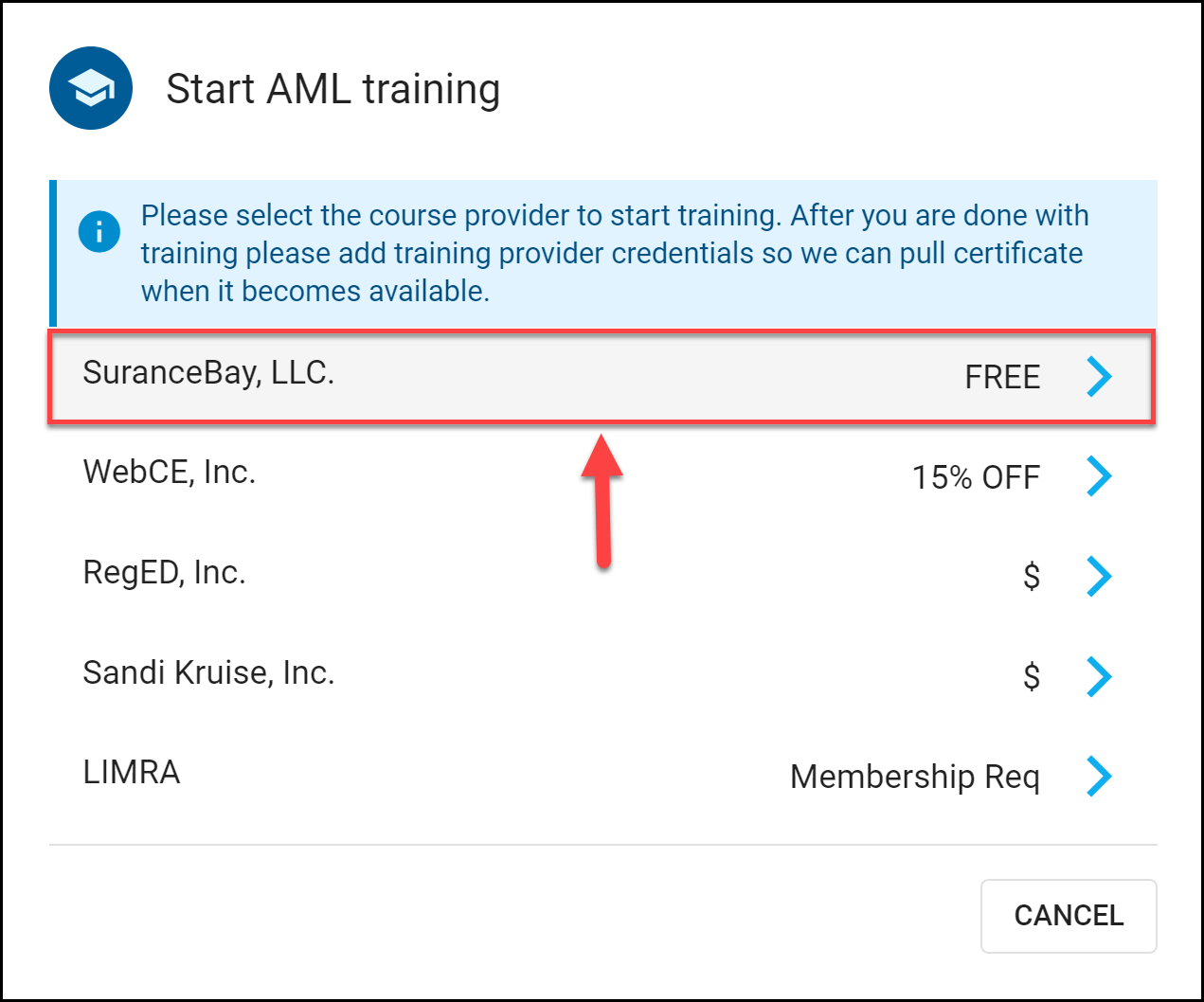 5. From here you can choose to review the course preparation information either online or offline by downloading the pdf. After becoming familiar with the exam prep information Select Test to take the 15 minute exam.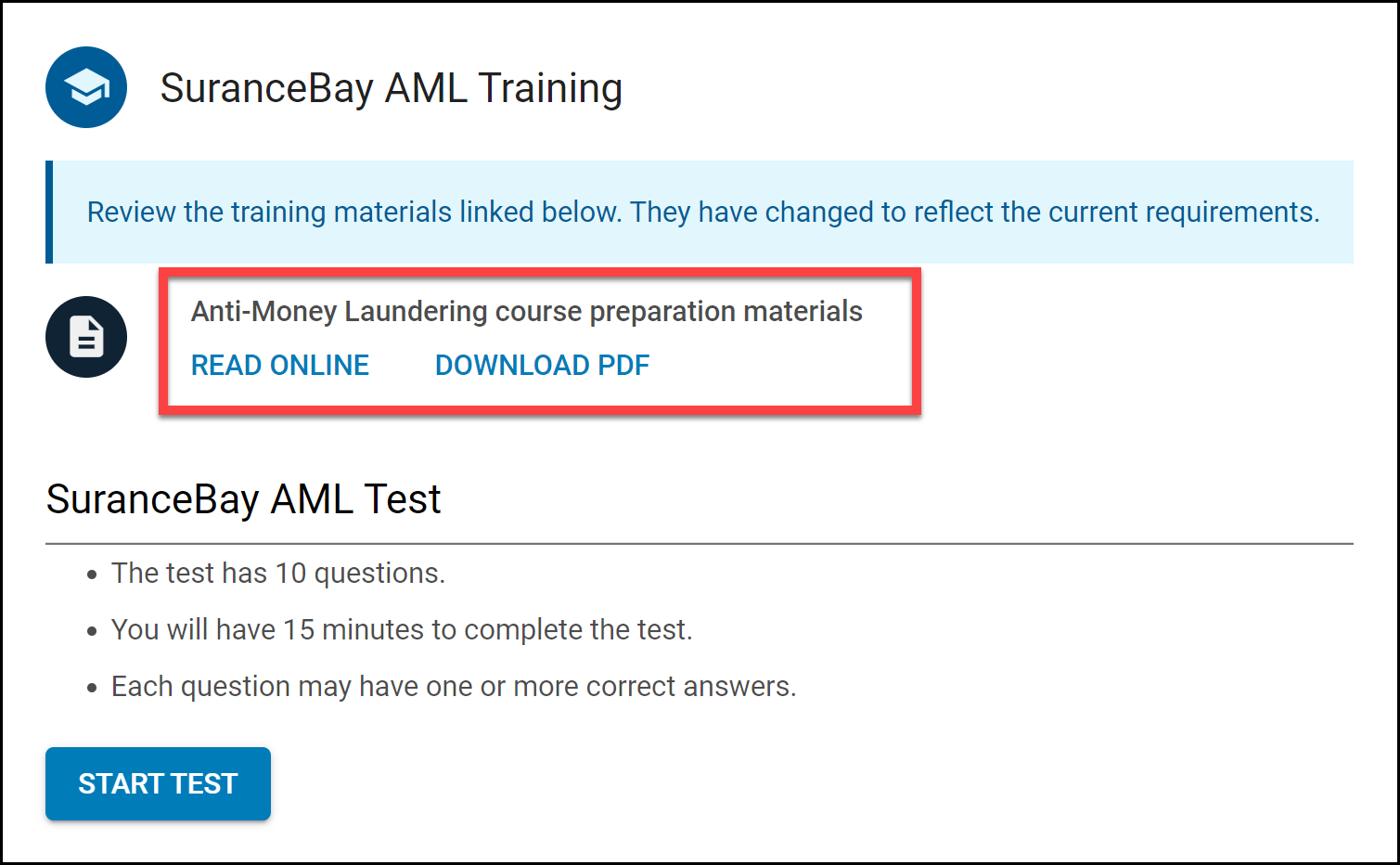 6. If you pass the course, an option to download the certificate is available.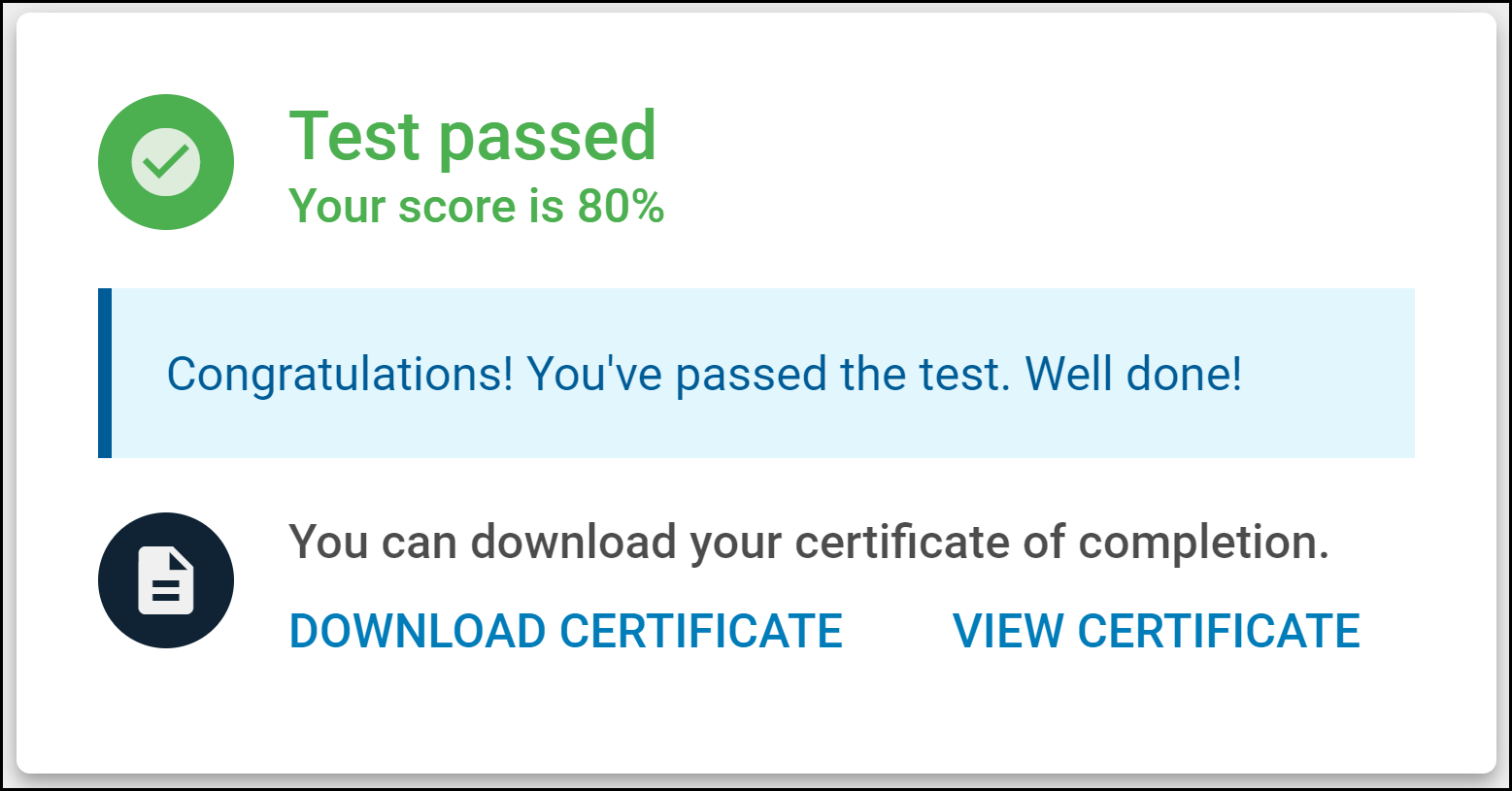 7. The certificate is also automatically placed in your SureLC profile on the CE & Training tab and the
profile documents tab.



In the event that you do not pass the course, you can start it again from the Training tab when you are ready.
Which carriers have officially approved this course?
The carriers listed below have formally approved SuranceBay's Anti-Money Laundering course to satisfy their producer AML training requirement. It is important to note that the list below does not include every carrier who will accept SuranceBay's free AML course. There are many carriers who do not have a preferred provider list and will therefore accept AML training from any provider.
Allianz
American Amicable Life Ins Co Of Texas
American Equity
American General Life Ins Co / United States Life in the City of New York
American Life & Security Corp (ALSC)
American National
Americo Financial Life And Annuity
Assurant
Athene
Banner Life / William Penn
Brighthouse Financial
Cincinnati Life Ins Co
Columbus Life
Forethought Life
Gerber Life Ins Co
Great American
IA American Life Insurance Company
Integrity Life Insurance
John Hancock
Lafayette Life
Lincoln Financial Group
National Guardian Life
Nationwide
North American
Occidental Life Ins Co Of North Carolina
Oxford Life
Pacific Life
Pioneer American Insurance Company
Pioneer Security Life Ins Co
Reliant Standard
Sagicor
SBLI Savings Bank Life Of Massachusetts
Securian / Minnesota Life
Securico Life
Sons of Norway
Symetra Life Ins Co / First Symetra National Life Ins Co of NY
Thrivent Financial
Transamerica

If you have any questions, please contact us via support@surancebay.com and we will respond as soon as possible.